Barbara Cooney
Featured Author: Barbara Cooney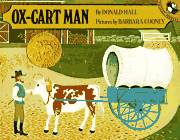 One of the most familiar names in children's literature is Barbara Cooney. Illustrator and author supreme, she has won two Caldecott Awards (Chanticleer & the Fox and Ox-Cart Man ) and numerous other prizes for her work and for good reason. She has created some of the most beautiful and important books in the field. She now wears a new title, that of philanthropist, for she recently gave $550,000 to the Damariscotta, Maine Public Library. The tiny town, 50 miles north of Portland, had a library in need of repair and enlargement and Barbara Cooney's gift will make that happen.
Barbara Cooney now makes her home in Damariscotta although she was born in an entirely different setting: Room 1127 of the Bossert Hotel in Brooklyn, New York. Her artistic endeavors as a child were encouraged by her mother, who was an artist herself. Barbara graduated from Smith College and then briefly attended art school in New York. Just one year after graduation, she had her first commission, the illustrations for Ake and His World by Bertil Malmberg and she was off. Since then Barbara Cooney has illustrated over 100 books. After receiving her second Caldecott, she began to write them as well and it's become hard to decide which she does better. She says that a picture book is like a string of beads with the illustrations being the jewels but the text is the string that holds them all together.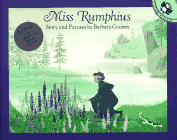 She married a doctor, Charles Porter, and the couple lived in Massachusetts where they raised four children. She has said that three of the books, Hattie and the Wild Waves, Miss Rumphius, and Island Boy are as close as she will ever come to autobiography and readers will find similarities in them to her life. Like Miss Rumphius, Ms Cooney has traveled widely and she surely has made the world more beautiful with her work. She now lives in a house in Maine overlooking the sea. She may not have grown up on Tibbet's Island as Matthais did, but Maine is her chosen home and she relishes it with equal delight to his. Hattie and the Wild Waves depicts the affluent life of an unconventional and questing child growing up in Brooklyn, New York. Enough said?
(Continued Below)
---
Advertisement:
---
Her first illustration work used etching and scratchboard techniques. Later picture books use collage, watercolor, acrylics and mixed media. Much of her work has a translucent and luminous quality and her depiction of depth and distance, as in the seascape scenes in Miss Rumphius is wonderful. Although many of her characters are small, they are never depicted as insignificant, even when shown in vast spaces. Although her pictures are strong and good, they never dwarf the text but expand and illuminate it. The careful research allows her to capture a time in the past with startling realism as in Emily and Hattie and the Wild Waves. Wendy Kesselman had based her story, Emma, on the life of artist Emma Stern and Barbara Cooney's illustrations are based on Emma Stern's paintings. Although her illustrations go from primitive to realistic, they are beautifully detailed and there is something so totally Cooney in her books that we seldom have trouble identifying them as hers.
Some of my favorites illustrated by Barbara Cooney but written by others:
Only Opal: the Diary of a Young Girl by Jane Boulton and Opal Whiteley (Paper Star, 1997 ISBN 0-698-11564-3 Paperback) will break your heart. Taken from a much longer diary created by an orphan child growing up in an unloving foster family, the picture book shows her inner life and her delight in the world around her. There's a mystery about Opal Whiteley that some of your students may want to follow up on.

Emma by Wendy Kesselman mentioned above (Picture Yearling, 1993 ISBN 0-440-408474 Paperback) tells of an artist who didn't discover she was one until her seventieth birthday when her relatives gave her a painting of the village where she grew up. This is a book that puts the elderly in a wonderfully creative light.
Letting Swift River Go by Jane Yolen (Little, 1995 ISBN 0-316-96860-9 Paperback) tells the story of Quabbin Reservoir and the central Massachusetts towns that were drowned to create the WPA project of the thirties and forties. The refreshing part about this book is that no one is made out to be wrong. It just happened and those quaint little towns which were home to so many are gone. More Information including activities, related books and links.
Emily by Michael Bedard (Doubleday, 1992 ISBN 0-385-30697-0 Hardcover) is a story about the recluse, Emily Dickensen. Cooney brings the turn of the century look of Amherst, Massachusetts to life in amazing detail.
Ox-Cart Man by Donald Hall (Viking, 1983 ISBN 0-14-050441-9 Paperback) is a hymn in praise of the simple, hard life of the New England farmer in the 19th century.
(Continued Below)
---
Advertisement:
---
Roxaboxen by Alice McLerran (Lothrop, 1991 ISBN 0-688-07592-4 Hardcover. Paperback.) is a delightful look at imaginative play. The children of this desert neighborhood construct their own town, outlined in desert glass and stones, where rules are firm and fun is rampant. See our article on Deserts in Kids' Books.
As to the work she has both written and illustrated, there are no favorites. They are all perfectly splendid.
Eleanor (Viking, 1996 ISBN 0-670-86159-6 Hardcover) is a picture book biography of Eleanor Roosevelt. It concentrates on her lonely childhood, humiliated and unloved by her mother and neglected by her father, and the beginning of her adult life. The scene where the young woman who feels so unlovely being fitted for her first beautiful dress is particularly wonderful.
Island Boy (Puffin, 1991 ISBN 0-140-50756-6 Paperback) shows us American civilization in a microcosm as a young man brings his bride to Tibbet's Island and they raise 12 children, the youngest of which is Matthias who will travel far but come back home. Watch technology progress in the illustrations over his life span.
Hattie and the Wild Waves: A Story from Brooklyn (Puffin, 1993 ISBN 0-14-054193-4 Paperback) is the closest to factual autobiography as we watch the spirited child of well-to-do parents live a privileged life in Brooklyn with summers at the shore.
Miss Rumphius (Viking, 1985 ISBN 0-14-050539-3 Paperback) is the story of the author's great aunt who followed her grandfather's advice: traveled the world, lived by the sea and made the world more beautiful.
(Continued Below)
---
Advertisement:
---

Related Areas of Carol Hurst's Children's Literature Site