Recommended Booklist

Novels: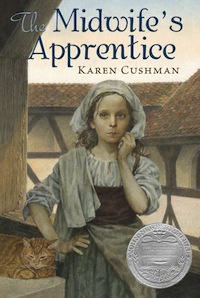 The Midwife's Apprentice by Karen Cushman. (1996, HarperCollins. ISBN 9780064406307. Order Info.) Novel. 128 pages. Gr 5-9.
In this Newbery Award winner Cushman propels us into the life of a girl living in the middle ages, makes us like and understand her, shows us a lot about the times and a little bit about ourselves. Alyce is an insignificant, nameless child sleeping in a dung heap when we first meet her. We know her first as Brat. Her progress from Brat working for scraps of food to Alyce, the Midwife's apprentice, is painful and thought-provoking. Read More.

Cushman, Karen. Catherine Called Birdy. Clarion, 1994 ISBN 0 395 68186 3.
A Teachers Guide Featured Book on this site with Activities, Related Books and Links.
Temple, Frances. The Ramsay Scallop. Orchard, 1994 ISBN 0 531 06836 6.
Set in the thirteenth century France, this novel tells about two young people whose marriage has been arranged against their will. A very wise priest sends them on a mission together during which time they, and we, see much about French life in the middle ages, learn a great deal about themselves and end up pleased about their coming marriage. This is challenging reading but very good.
Park, Linda Sue. A Single Shard. Clarion, 2001 ISBN 0395978270.
In this Newbery Award winner Tree-ear is homeless, living under a bridge in twelfth-century Korea. He becomes an apprentice to a master potter after accidently breaking one of the pieces of pottery.

Picture Books
Anno, Mitsumasa. Anno's Medieval World. Putnam, 1980 ISBN 0 399 61153 3.
This picture book introduction to medieval history is centered mostly in southern Europe.
Chaucer, Geoffrey. Canterbury Tales. Adapted by Barbara Cohen Illustrated by Trina Schart Hyman Lothrop, 1988 ISBN 0 688 06201 6.
Hyman and Cohen have chosen four tales to retell and illustrate: The Nun's Priest's, The Pardoner's, The Wife of Bath's and The Franklin's. In each case the tale entertains and enlightens but, together with the illustrations, they come to life, revealing much about the times and the people.
Gerrard, Roy. Sir Cedric. Farrar, 1984 ISBN 0 374 36959 3.
In the age of chivalry, Sir Cedric defeats the evil knight and wins the fair maiden. The plot is a spoof, but the illustrations are very informative.
Goodall, John S. The Story of a Castle. McElderry, 1986 ISBN 0 689 50405 5.
This wordless book shows us the inner workings of a Norman castle in the Middle Ages.
Hunt, Jonathan. Illuminations. Macmillan, 1989 ISBN 0 02 745770 2.
This alphabet of illuminated letters is full of fascinating information about medieval times.
Lasker, Joe. Merry Ever After: The Story of Two Medieval Weddings. Viking, 1976 ISBN 0 670 47257 3.
The peasant wedding and the knight's wedding offer two sides of life in the Middle Ages.

Non-Fiction
Caselli, Giovanni. The Middle Ages. Bedrick, 1988 ISBN 0 87226 176 X.
With detailed drawings and other artwork, we get a glimpse of the life of the time.
Gregory, Tony. The Dark Ages. Facts on File, 1993 ISBN 0 8160 2787 0.
Well captioned photographs and drawings make this short book accessible as well as informative.
Howarth, Sarah. Medieval People. Millbrook, 1992 ISBN 1 56294 153 4.
One of three volumes in a series, this one looks at the life of six representative people: a doctor, monk, knight, lady, bishop and a heretic.

Related Areas of Carol Hurst's Children's Literature Site
Catherine Called Birdy by Karen Cushman's Featured Book Page.
---
Advertisement:
---
---
Advertisement:
---
---
Advertisement:
---