Besides the books on perspective and attributes from the history and math lists, I'd want these books in the science corner.
1. Letting Swift River Go by Jane Yolen and Barbara Cooney (Little Brown, 1992 ISBN 0316968994. Order Online) is my first choice for a science book because it presents not only the mechanics of storing water, but the results of that action on the people who are displaced by those actions. The idea that progress is a two-edged sword is well presented and should help students think about the prices paid. More information including activities, related books and links.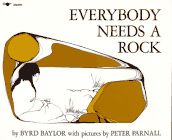 2. Everybody Needs a Rock by Byrd Baylor and Peter Parnall (Simon & Schuster, 1974 ISBN 0689710518. Order Online) could have gone into the math list as well as this one. It's an obvious choice when working with rocks and minerals in the science program but it belongs in any science work where attributes are involved. The added accent on beauty and the senses makes this one golden. More Information.
3. Helen Cowcher's Tigress (Farrar, Straus & Giroux, 1991 ISBN 0374477817. Order Online) builds on the conflict between the needs of a wild animal and those of the populace, surely a pervasive problem in science. More Information.
4. Shark in the Sea by Joanne Ryder and Michael Rothman (Morrow, 1997 ISBN 068814909X. Order Online) involves transformation as many of Ryder's books do. We experience one day through the eyes of an animal, in this case a shark. The idea of perspective is thus enlarged by an engaging and lyrical book.
5. Science is a search for truth. Besides that search, in The Day Jimmy's Boa Ate the Wash by Trinka Hakes Noble and Steven Kellogg (Dial, 1980 ISBN 0140546235. Order Online) we get varying perspectives and the idea that each action causes a reaction.
6. Virginia Hamilton and Barry Moser's In the Beginning: Creation Stories from Around the World (Harcourt, 1996 ISBN 0152387404. Order Online) belongs in a science collection for contrast, food for thought, and the evidence of the very human need to explain the unknown.
7. The focus is on procedure in Janet Stevens' Cook-a-doodle-doo (Harcourt, 1999 ISBN 0152019243. Order Online) as a descendant of The Little Red Hen tries to make a strawberry shortcake. The misunderstandings and mistakes make for a humorous story but the added insets give explanations and information about each process and make this a good science book.
8. There are several reasons for using You Can't Take a Balloon into the Metropolitan Museum by Jacqueline Preiss and Robin Preiss Glasser (Dial, 1998 ISBN 0803773014. Order Online) in a science program. First of all, of course, there is the balloon which takes off and lands and takes off again. Finding the science behind each move is just one activity from this book. Another plus is that there are strong parallels between the balloon's activities and those of its owner inside the museum. Sometimes these parallels are obvious but other times it's subtle. It takes careful observation to find them all.

9. Owl at Home by Arnold Lobel (HarperCollins, 1975 ISBN 006440346. Order Online) is a controlled reader and you might skip right by the science inside but it belongs in the science program. In each of these short stories, Owl could do with a little science training. His interpretation of natural events is confusing to say the least. More Information.
10. The last of the science picture books is not as much of a stretch as some of my other choices but I can't think about natural science without reaching for Owl Moon by Jane Yolen and John Schoenherr (Philomel, 1987 ISBN 0399214577. Order Online). It's a lyrical and pictorial gift to anyone who cares for the out of doors.

Additions to the Above Booklist

Grades 2 - 9
Snowflake Bentley by Jacqueline Briggs Martin. Illustrated by Mary Azarian. Picture Book, Nonfiction. 32 pages.
Find this book: Local Bookstore, Amazon
, B&N


Wilson Bentley was fascinated by snowflakes. Born in Vermont in 1865, his parents supported his interest, spending their savings to buy him a camera and microscope. His thousands of photographs are still used in studies today. Martin tells the tale simply with sidebars adding further information about the science behind Bentley's studies. Read More in our Featured Book Teachers Guide with discussion questions, extension activities, related books and links.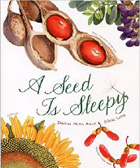 A Seed Is Sleepy by Dianna Hutts Aston. Illustrated by Sylvia Long. (2007, Chronicle. ISBN 9780811855204. Order Info.) Picture Book. 28 pages. Gr 2-8.
This is a gorgeous picture book from the same author/illustrator team that brought us An Egg Is Quiet. We start with a beautiful opening page spread showing sunflower seeds nestled within the center of a ripe sunflower head. Beautiful illustrations show seeds next being secretive (lying dormant for a season or for years), fruitful (encased in blueberries and papayas) and so on. Full Review.

Related Areas of Carol Hurst's Children's Literature Site

For Your Convenience You Can Order the Following Books Online
You Can Always Change Your Mind Later.
Read More about our agreement with Amazon.com.
---
Advertisement:
---
---
Advertisement:
---
---
Advertisement:
---