Any real estate agent will tell you that what matters is location, location, location. Some narratives make much of location while, in other stories, exact placement is a minor matter. In this newsletter we've tried to locate one good book set in each state in which location is important. This is no easy task and our choices may well differ from your own. That's part of the charm, however. Encourage the kids to make their own nominations and substitutions. Then push them just a bit farther. Can they find one, three, five, or more bits of information about that location within the narrative? Would any of those facts be true of the entire state or just one part of it? How does it differ from your own location? Also, while some of these stories are set in the present day, others represent a historic view. Putting the location titles in their proper place in history can present another challenge to readers.
Also, remember that these are not travel brochures; these are works of literature. Therefore the area, time or situation depicted in these books may present portraits of the area that are not flattering. Make that observation yet another subject for discussion. Is this a fair portrait? A typical one? Is it honest? True? Does it change your perception of your own area or time?
ALABAMA
* * * Curtis, Christopher Paul The Watsons Go to Birmingham, 1963
Delacorte, 1995 ISBN 0385321759
Grades 4 - 9. Order Info
Most of the first part of the book is devoted to the high jinks, many of them hilarious, of Byron Watson, who skirts the edge of delinquency. Although his parents are loving and have great senses of humor, they are finally pushed into doing something drastic about Byron. They will take Byron to his grandmothers in Birmingham for a change of scenery, and they hope a chance to change his way of living. The trip to Birmingham brings the children to their first experience with segregation. The real climax comes when the church Sunday school that Joetta is attending is bombed. The horror of it all is too much for Kenny, however. The family, including Byron, go back to Michigan and it is Byron who saves the day. More Information.
ALASKA
There are so many good books set in Alaska that choosing is difficult but let's slip by London, Paulsen and George to a book geared toward a younger reader:
* * * Blake, Robert J. Akiak: A Tale from the Iditerod
Philomel, 1997 ISBN 0399227989
Grades 1 - 5. Order Info
This is a tale about perseverance and courage. Akiak is a sled dog in the Iditerod and she's doing very well until ice cakes in her paws on the fourth day force Mick, her owner, to take her lead dog out of what was to be her final race. Akiak escapes the handlers who are trying to put her on a homebound plane and re-enters the race on her own. The rules prevent her from being re-harnessed even when the dog succeeds in relocating Mick and her team on the trail but Akiak continues, eventually preventing Mick from choosing the wrong trail. Akiak enters Nome the hero, the readers hoped she'd be.
ARIZONA
* Cowley, Joy Big Moon Tortilla Illustrated by Dyanne Strongbow
Boyds Mills, 1998 ISBN 1563976013
Grades K - 3. Order Info
Marta Enos, a little girl living on the Papago Reservation in southern Arizona, has a really bad day. When she seeks comfort from her grandmother, she gets it but she also gets a lesson in perspective. Grandmother tells her a traditional tale, which incorporates the many ways to look at a problem. Given many choices of those ways the child chooses to be an eagle, flying high and able to see just how small the problem is. Her grandmother's advice? "Fly high and laugh. Then come back and do your homework."
ARKANSAS
* * Branscum, Robbie The Murder of Hound Dog Bates
Puffin, 1982 ISBN 0140375937
Grades 3 - 5. Order Info
When Sassafras Bates finds his beloved dog dead, he knows immediately that it's one of his aunts who killed it. When guilt alone doesn't seem to bring forth a confession from one of the culprits, Sassafras sets about proving it. In the process, he learns a lot about himself and his aunts and the reader has a laugh and a tear.
CALIFORNIA
* * Cushman, Karen The Ballad of Lucy Whipple
Clarion, 1995 ISBN 0395728061
Grades 4 - 9. Order Info
In Lucy, Cushman has created a believable, very human teenager who allows us to see the period and the characters of the California Gold Rush - miners, saloon keepers, Native Americans, slaves, adventurers and mountain men who were drawn to the gold fields. By focusing on Lucy and her mother, Cushman allows us to see the females who, at that time, made up ten percent of the populace. In Plain Sight is also set during the Gold Rush.
(Continued Below)
---
Advertisement:
---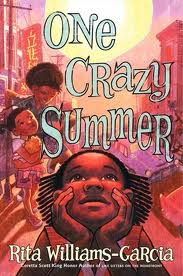 * * * Williams-Garcia, Rita One Crazy Summer
(2010, Amistad/HarperCollins. ISBN 9780060760885. Order Info.) Novel. 218 pages. Gr 4-9.
It's 1968 in Oakland, California and eleven year old Delphine and her two younger sisters are spending a month with their mother who deserted them years ago. It's the height of the Black Power movement and the girls spend their days at the Black Panther's People's Center while their unstable mother writes poetry. This Newbery Honor Book is a fascinating look into the time period as well as an engrossing tale of one girl's struggle to understand her mother and to find her own authentic way of relating to her.
COLORADO
* * Naylor, Phyllis Reynolds The Fear Place
Simon & Schuster, 1994 ISBN 0689318669
Grades 4 - 8. Order Info
This brief, accessible novel is a good story about two teenage brothers, their misunderstandings and eventual understanding. Mainly, however, it's a story about facing and overcoming one's fears. The two brothers are alone in the Colorado wilderness when they angrily part company. To get as far away from his younger brother as possible, Gordon goes through a difficult mountain trail to an even more remote area. At first younger brother Doug is delighted that his tormentor is gone, especially when he makes friends with a mountain lion but he gradually becomes worried about Gordon. Eventually he must take the fearful trail (over which he once collapsed) to find him. When he finds his badly injured brother, he must travel back through the Fear Place - this time with his brother on his back.
CONNECTICUT
* * * Speare, Elizabeth George The Witch of Blackbird Pond
Dell, 1978 ISBN 0440995779
Grades 5 - 9. Order Info
It's 1688 and Kit Tyler has always been a misfit. She is willful and independent and these qualities upset her Puritan aunt and uncle in Wethersfield, Connecticut. Kit spent the first sixteen years of her life in the Barbados where rules were less restrictive. At Blackbird Pond, the only place where Kit feels free, she meets and befriends Hannah, a Quaker. When a mysterious fever strikes Wethersfield, the villagers accuse Hannah of being a witch and burn down her house. At the last minute Kit helps her friend escape but ends up being accused of witchcraft herself.
DELAWARE
* Laird, Marnie Water Rat
Winslow Press, 1998 ISBN 1890817082
Grades 4- 6. Order Info
It's 1748, and 14-year-old Matt, who loves the water and is nicknamed Water Rat, runs away from a tyrannical tavern owner and goes to live with a doctor and his family on their Delaware farm. When a pirate ship arrives at the family's dock, Matt proves himself a hero and manages to save the doctor's family while assisting with the capture of the pirates.
FLORIDA
* * McDonald, Joyce Comfort Creek
Delacorte, 1997 ISBN 0385322321
Grades 4 - 8. Order Info
Life for Quinella and her family has not been easy since their mother left to pursue a singing career. Their father is out of work because the phosphate mine that has controlled their lives is going out of business. Pa-Daddy moves their trailer to a cypress swamp to save money and they may lose even these primitive quarters as the joblessness goes on. There is the possibility that a new phosphate mine could begin but that would cause the destruction of yet another community. The characters are warm and believable and the situation of a company owned town closing down is an interesting one.
GEORGIA
* * * Krisher, Trudy Spite Fences
Delacorte, 1994 ISBN 0385320884
Grades 5 - 7. Order Info
Life in Kinship, Georgia has been good for thirteen-year-old Maggie Pugh but the summer of 1960 changes everything. Zeke, a black trader, has given her a camera and through the camera's eye Maggie sees things differently. She knows now that the physical abuse she suffers from her mother is not part of every child's life. She sees the racism and abuse heaped on Zeke and other members of the black community and she takes a different look at the white citizens who perpetuate those horrors. This is a strong book which handles brutality brutally.
(Continued Below)
---
Advertisement:
---
HAWAII
* Salisbury, Graham Blue Skin of the Sea: A Novel in Stories
Laurel Leaf, 1994 ISBN 0440219051
Grades 6-9. Order Info
This is the coming of age story of Sonny Mendoza, living in Hawaii in the 50s and 60s. We follow the boy from age 6 to mid teenage in a series of related stories. Sonny moves back to live with his uncommunicative, widowed father at age six and discovers his family as he becomes increasingly aware of his own fear of the sea. Mendoza men, he knows, have no such fear and rely upon the sea for their livelihood as well as their pleasures.

IDAHO
* * Creech, Sharon Walk Two Moons
HarperCollins, 1994 ISBN 0060233346
Grades 4 - 9. Order Info
Salamanca Tree Hiddle's mother left her to go to Idaho. Now, Sal and her paternal grandparents set out to drive from Ohio to Idaho in time for her mother's birthday. On the way, Sal tells them about her friend Phoebe whose mother also left without notice and, as she tells the story, Sal sees parallels between Phoebe's experience and her own. Drawing strength on the traditions of her own Native American ancestry, Sal is able at last to face the truth about her mother. More Information with activities and related web sites.
ILLINOIS
* * * Peck, Richard A Long Way From Chicago
Dial, 1999 ISBN 0803722907
Grades 4 - 8. Order Info
Every August from 1929 - 1942, our narrator, Joey, and his sister Mary Alice came from Chicago to stay at their grandmother's home in rural Illinois. We join them there every year from 1929-1935 and then again, for a last look, in 1942. In the interim the children grow into adulthood but their grandmother remains a constant presence, resolved in her eccentricity. Those eccentricities bother them at first, but they learn to expect them and even enjoy them. There is, beneath all that, a loving and wonderful person, but she'd never admit it.
INDIANA
* * Wyman, Andrea Red Sky at Morning
Holiday, 1991 ISBN 0823409031
Grades 3-6. Order Info
Callie, Katherine and their mother are left behind on their grandfather's Indiana farm when their father goes to Oregon to establish a future for them there. As the months go by, one devastation after another hits the family: the mother dies in childbirth, diphtheria strikes, the grandfather is felled by a weak heart. Through all this the girls hope for their father's return but he turns out to be elusive.
IOWA
* San Souci, Robert D. Kate Shelley: Bound for Legend Illustrated by Max Ginsburg
Dial, 1995 ISBN 0803712898
Grades 2 - 4. Order Info
Set in rural Iowa at the end of the twentieth century, this picture book tells of the heroism of Kate Shelley who risked her life to stop the train from Chicago from crossing a downed bridge. Railroad officials had already stopped the train but Kate was honored nationally for her courage.
KANSAS
* * Beatty, Patricia Jayhawker
Morrow, 1991 ISBN 0688098509
Grades 5 - 9. Order Info
Elijah's father is a jayhawker (abolitionist follower of John Brown). Their house is burned by Missouri Bushwackers (defenders of slavery). After his father is killed, Elijah is captured by Prentiss, a plantation owner and Bushwacker, who beats Elijah and steals his horse. Elijah finally gets to confront his tormentor but not before he encounters both Jesse James and Wild Bill Hickok. More about Slavery.
KENTUCKY
* * Lyon, George Ella Come a Tide Illustrated by Stephen Gammell
Orchard, 1990 ISBN 0531058549
Grades K - 4. Order Info
In this delightful picture book, the old folks know that heavy rains are coming and that sets these rural Kentucky dwellers to moving and helping each other cope with the coming flood. It's a yearly occurrence, apparently, and one small child is fearful, but Grandma faces the challenge with gusto and soon everybody is "making friends with a shovel" to clean up the mess. The illustrations almost drip with water and mud.
LOUISIANA
* * * Holt, Kimberly Willis My Louisiana Sky
Holt, 1998 ISBN 0805052518
Grades 4 - 8. Order Info
Tiger Ann Parker is a smart, sensitive girl with mentally challenged parents. She lives in rural Louisiana with her parents and Granny. It's Granny who keeps everything in the household on track. She dispenses love and discipline with equal aplomb. Then Granny dies suddenly and Tiger Ann is invited to live with her very stylish aunt in Baton Rouge. Life in the big city is tempting but Tiger has a role to play back in her hometown. Kimberly Willis Holt's web site.
(Continued Below)
---
Advertisement:
---
MAINE
* * * Speare, Elizabeth George The Sign of the Beaver
Dell, 1983 ISBN 0440479002
Grades 4 - 8. Order Info
In 1768, Matt Hallowell and his father went to build a house in the Maine woods, leaving the rest of the family down in Massachusetts. In early summer, when the cabin was finished, Mr. Hallowell left his son with a rifle, a field of planted corn and some minimal skills for survival. A fur trapper stole the rifle and Matt was almost fatally injured before a Native American offers his help in return for teaching his grandson to read English. More Information.

MARYLAND
* * * Paterson, Katherine Jacob Have I Loved
Avon, 1981 ISBN 0380564998
Grades 6 - 9. Order Info
All her life, Sara Louise, known as Wheeze, has felt deprived of schooling, friends, mother and even grandmother by her beautiful twin sister, Caroline. Slowly Louise begins to find her identity and the courage to pursue her own path rather than to let jealousy take over. Isolated on a tiny Chesapeake Bay Island, her grandmother's sharp tongue has intensified these feelings of incompetence. Louise learns the ways of the island, taking on a job traditionally reserved for males and, as she gains confidence in herself, all sorts of insights into her own behavior and that of others become apparent. More Information.
MASSACHUSETTS
* * * Cormier, Robert Other Bells for Us to Ring
Dell, 1990 ISBN 0440407176
Grades 5 - 9. Order Info
Darcy's family has moved often during her eleven years so Darcy has never had a real friend. She expects to go on telling her secrets to her Shirley Temple doll. Then Kathleen O'Hara forces her way into Darcy's life. Kathleen's large Irish Catholic family life is in direct contrast to Darcy's more sedate Unitarian one, but Darcy's home is full of love and Kathleen's is full of fear of the abuse from her often drunken father. When Darcy's father is drafted and sent to the front in Europe, it is Kathleen that Darcy turns to.
MICHIGAN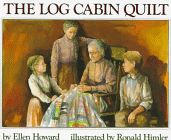 * * * Howard, Ellen The Log Cabin Quilt Illustrated by Ronald Himler
Holiday, 1996 ISBN 0823412474
Grades 1 - 8. Order Info
After her mother's death in the Carolinas, Elvirey and her family pack up the wagon to move to Michigan. At the last minute, defying her son-in-law's instructions to take only the bare necessities, Grandma throws on a bag of quilting scraps. In Michigan the father builds the log cabin for his family's shelter before heading off to hunt for food. A sudden burst of winter freezes the clay between the logs and the cold fills the cabin. Close to death, they use the quilt scraps to replace the clay and save themselves while inadvertently decorating the cabin.
MINNESOTA
* * * Paulsen, Gary Popcorn Days & Buttermilk Nights
Lodestar, 1983 ISBN 0525667709
Grades 4 - 9. Order Info
As in many works by Paulsen, the narrator is a troubled boy who has been sent to stay with relatives in northern Minnesota. His uncle, a blacksmith, treats the boy with his own quiet dignity. The family has no money, although they all work hard. Most of the people pay the blacksmith fees with produce so there is always ample to eat. The boy finds his anger disappearing as he becomes part of the rhythm of the farm and the blacksmith shop. When harvest season is in full swing, the line of broken tools and equipment to be fixed seems endless and David and the boy sleep in the shop for a few hours at a time before pitching in to work again. At last the busy time is over and they're headed for a well- earned rest. But a circus that David can't afford to bring his children to changes everything. More Information.
MISSISSIPPI
* * * Taylor, Mildred Roll of Thunder, Hear My Cry
Bantam, 1984 ISBN 0803774737
Grades 5 - 9. Order Info
In this first book about the Logan family, we focus on Cassie, one of four children, in this African American family. In rural Mississippi during the Depression years, the Logans own land and are respected by the sharecropping community. All around them there is the violence spawned by racial hatred: lynchings and other violence. We see one year in that life through Cassie's eyes.
MISSOURI
* * * Twain, Mark The Adventures of Tom Sawyer
Random House, 1999 ISBN 0517205769
Grades 4 - 9. Order Info
Don't forget this classic when choosing a good read-aloud. The humor is timeless, the mystery and hijinks as refreshing today as it was when Twain created it. Life in small town Missouri in the latter part of the 19th century is lovingly depicted.
MONTANA
* * * Hudson, Jan Sweetgrass
Philomel, 1984 ISBN 0399217215
Grades 5 - 9. Order Info
Sweetgrass is 15 and in love with Eagle-Sun but her father says she is not yet mature enough to be married. When the family is struck by small pox, Sweetgrass learns her strengths and takes on the role of a woman to save the remaining family members.
This is a quiet but powerful book. The setting is beautiful and the cultural content is strong. We see the roles of men and women and those of adults and children in the culture as it was before the arrival of guns and horses.
NEBRASKA
* * * Conrad, Pam Prairie Songs
HarperTrophy, 1985 ISBN 0064402061
Grades 5 - 9. Order Info
This novel stresses the human toll that life on the early frontier exacted. Louisa loves the prairie, but it's too harsh for delicate Emmeline, a debutante from Philadelphia brought there by her young doctor husband. Eventually life in the sod house overwhelms her and the woman is driven to madness. More Information.
NEVADA
* Ryan, Pam Munoz Riding Freedom
Scholastic, 1998 ISBN 059095766X
Grades 4 - 7. Order Info
Based on the life of Charlotte Parkhurst, this novel details her outlandish experiences. Disgusted with the somber life in a New Hampshire orphanage in the middle of the nineteenth century, she disguised herself as a boy and fled to Nevada, stopping to sharpen her horse-training skills on the way. That ability to disguise her gender even allowed her, years later, to vote at a time when women could not.
NEW HAMPSHIRE
* * * Blos, Joan W. A Gathering of Days
Simon & Schuster, 1990 ISBN 068971419X
Grades 4 - 7. Order Info
Written as the diary of an eleven year old girl, this short novel makes personal the mid-nineteenth century life in small town New Hampshire. We witness the changes in society and in the life of Catherine as she encounters and aids a runaway slave, mourns the death of her best friend and adjusts to a new stepmother. The book is deeply personal and makes for a fast, informative experience with history.
NEW JERSEY
* * * Cohen, Barbara Thank You, Jackie Robinson
Lothrop, 1986 ISBN 0688079091
Grades 4 - 7. Order Info
Sam Green is nuts about baseball. His mother runs an inn in New Jersey and Sam's best friend is Davy, the African American cook at the inn. They share the interest in baseball and especially admire Jackie Robinson, the first black man in major league baseball. Together Davy and Sam set out to see a game at each ballpark within a day's drive of their home. They can't go any farther than that since, in these days of segregation, Davy is not allowed in any restaurant or hotel. More Information.

NEW MEXICO
* * Hobbs, Will Kokopelli's Flute
Atheneum, 1995 ISBN 0689319746
Grades 4 - 7. Order Info
This is a mystical novel of transformation. Tepary lives with his parents in the four corners area of New Mexico. His mother is researching packrat droppings. His father is planting and keeping alive old varieties of corn, beans and squash. When one of the ancient cliff dwellings is savaged by pot-stealers, Tepary comes upon an ancient flute. During a lunar eclipse, he blows upon it. From that moment, he is transformed each night into a pack rat. At about the same time a very wise Indian arrives and we soon begin to suspect that he is Kokopelli, the ancient flue player. We also learn that he is the person who has been anonymously supplying Tepary's father with obscure and ancient seeds. Then Tep's mother falls ill with the hanta virus and he needs both human and rat form to help her. More Information.
NEW YORK
* * * Konigsburg, E. L. From the Mixed-Up Files of Mrs. Basil E. Frankweiler
Simon & Schuster, 1970 ISBN 0689205854
Grades 3 - 7. Order Info
Claudia is running away from home -- not that home is so terrible -- it's just that she feels unappreciated there. She takes her younger brother Jamie with her largely because he manages money better than she and has some accumulated allowance. Of course, she doesn't intend to rough it away from home. They hide out in the Metropolitan Museum of Art using some very clever ruses to keep their presence a secret. There Claudia becomes intrigued with a statue which may or may not be the work of Michaelangelo.
NORTH CAROLINA
* * * Newton, Suzanne I Will Call It Georgie's Blues
Puffin, 1990 ISBN 0140345361
Grades 5 - 8. Order Info
The three children of Reverend Sloan and his wife, Lou, must deal with the rigidity created by this insecure, fearful man. He browbeats his wife who must present a happy face to the congregation. Eighteen year old daughter Aileen is becoming increasingly rebellious, by dating Pete, a disreputable young man. Georgie is the youngest child and the most vulnerable. He strives constantly for his father's attention and love. The middle child, Neal, tries to keep the peace but mostly escapes into the world of music.
NORTH DAKOTA
* * Kurtz, Jane Jakarta Missing
Greenwillow, 2001 ISBN 000294019
Grades 5 - 9. Order Info
It's been a long journey for Dakar's family from Kenya to North Dakota. Although infinitely safer now, Dakar still has fears: the telephone, the people, even the house itself. Most of all she fears for her older sister Jakarta, who refused to leave Kenya. Her mother is subject to fits of depression and her father seems too focused on world diseases to notice his children in need.

OHIO
* * * Fleischman, Paul The Borning Room
HarperCollins, 1991 ISBN 0060237627
Grades 5 - 9. Order Info
One room in the house her grandfather built in Ohio in 1820 is the focal point in Georgina's narrative. The roles of birth and death that have been played out in that room outline her life. In that room she herself is born and there she witnesses the birth of one of her younger siblings. Eventually, Georgina has her own babies in that room. There, also, her mother dies giving birth to another baby probably due to a misuse of the new drug, chloroform. An escaping slave is befriended first by Georgina and then by the rest of the family as she aids in a difficult birth. The room is also the place where her beloved grandfather dies after refusing to change his freethinking ways. More Information.
OKLAHOMA
* * * Hesse, Karen Out of the Dust
Scholastic, 1997 ISBN 0590360809
Grades 5 - 7. Order Info
Told in blank verse, this stark tale is made even starker by that format. Billie Jo lives with her mother and father on the plains of Oklahoma in 1934. Times already hard are made harder by the dust bowl. Billie Jo's piano talents offer some escape even though her mother disapproves of her musical choices. A tragic fire and its ensuing guilt and pain take away all vestiges of home for Billie Jo and she decides to leave it all behind - for a while. More Information with activities, related books and links.
OREGON
* * Avi The Barn
Orchard, 1994 ISBN 0531068617
Grades 4 - 9. Order Info
Ben's father has been felled by palsy. Ben, the youngest child has been called home from the boarding school. Ben with his older brother, Harrison, and his sister Nettie, undertake to build a much-needed barn. Ben is convinced that this will make his steadily failing father get better. The barn becomes a symbol for achievement, acceptance and love. More Information.

PENNSYLVANIA
* * * Lowry, Lois Autumn Street
Dell, 1980 ISBN 0440403448
Grades 4 - 8. Order Info
Lowry puts us into the mind of a six year old girl with all her misperceptions, innocence and concerns. Elizabeth has come with her sister and pregnant mother to live with her grandparents while her father is overseas. The grandparents are people of wealth and respect in the community. Her mother is kind and loving but it is Tatie, the black maid of the household who is Elizabeth's solace during this time. Charles, Tatie's grandson, becomes Elizabeth's best friend although he is not allowed in anything but the kitchen of the house and must not use the sidewalks at the front of the house. Elizabeth and Charles take Elizabeth's new sled to the park and there, Charles is harassed and driven off by the bigger boys because he is black. These events combine to make up a larger tragedy. More Information.
RHODE ISLAND
* * Avi Something Upstairs
Avon, 1988 ISBN 0380708531
Grades 4 - 8. Order Info
Avi has taken an overused plot and twisted it just enough to make it new. Avi appears in the book as himself, the person to whom this story is told by a young boy at a school Avi visits. After moving into an old house in Providence with his family, Kenny makes contact with a ghost - that of a young slave boy murdered in that house. As in many such stories, Kenny is drawn into the past to change the fate of the ghost. In this case, Kenny must himself become a killer and risk becoming a ghost himself in order to save Caleb.
SOUTH CAROLINA
* McGill, Alice Miles' Song
Houghton, 2000 ISBN 0395979382
Grades 4 - 8. Order Info
Language plays a big part in this novel about slavery in general and one slave in particular. Miles uses the language of the field slave even after, having been surreptitiously taught to read and write, he can speak the same style of English his masters do. It's important, however, that the white slave owners believe that young Miles is slow and foolish. They set out to break him, but those attempts only make him stronger. When he does make his run for freedom, Miles uses every skill and trick he has learned. More about slavery.

SOUTH DAKOTA
* * * Turner, Ann Grasshopper Summer
Simon & Schuster, 1989 ISBN 0027895114
Grades 3 - 6. Order Info
Sam sees no reason for his father's decision to strike out on their own in Dakota Territory. However, all too soon the covered wagon is equipped and loaded and they're off. The prairie both thrills and frightens Sam. When the sod house is ready, however, it quickly becomes home and Sam's fright and resentment turns to pride in their home and their family. Then the plague of grasshoppers arrive. In a few painful weeks, everything they've worked for is gone and the rest of the family just about gives up. It's Sam and his father who find ways to start again. More Information with activities, related books and links.
TENNESSEE
* * * Freeman, Suzanne The Cuckoo's Child
Greenwillow, 1996 ISBN 0688142907
Grades 4 - 8. Order Info
Mia is confused and angry. Her parents never returned from a sailing cruise. Mia and her two half sisters have been taken in by their mother's sister Kit in small town Tennessee. Convinced that she can somehow bring her parents back, Mia's behavior is erratic and bizarre. An analogy is made between the cuckoo who deposits her lone egg in other bird's nests and what Mia's mother, always a free spirit, has done. During one summer, Mia has broken her aunt's arms by jumping on her from the water tower, broken up her aunt's relationship with one man and bitten a new suitor's hand.
TEXAS
* * Erickson, John Hank the Cowdog
Puffin, 1999 ISBN 0141303778
Grades 3 - 5. Order Info
This is the first in a series of books about Hank, the Head of Ranch Security on a Texas ranch. The humor is tongue-in-cheek as the ever-confident dog manages to misinterpret and mishandle almost every situation. His faithful and ever-confused sidekick Drover adds to the fun. There's nothing sophisticated in these books, just good fun.
UTAH
* * * Wunderli, Stephen The Blue Between the Clouds
Holt, 1996 ISBN 0805048197
Grades 5 - 9. Order Info
Matt and Two Moons are best friends and this book is a celebration of their friendship. Two Moon's parents are dead and his sister wants him to live with her in Bozeman, Montana, but his grandfather who lives on the reservation has decided that Two Moons can stay with Matt and his family for a while. Perhaps because both boys know their living arrangement is temporary, they thoroughly enjoy and understand each other. Both are determined to fly and manage, amazingly, with the help of a disturbed World War I veteran, to do so.
VERMONT
Kinsey-Warnock, Natalie The Night the Bells Rang
Cobblehill, 1991 ISBN 0525650741
Grades 4 - 6. Order Info
This is the gentle story of life in northern Vermont during the First World War. Mason lives on a farm with his younger brother and parents and much of the book describes such rural pastimes as sugar on snow and cider-making, but the heart of the book lies in the perceptions Mason has toward Aden Cutler, the school bully. It's Mason who bears the brunt of that bullying and often, bullies his own brother in anger at his helplessness. He frequently wishes Aden dead. However, it is also Mason who is sole witness to and recipient of an act of bravery and kindness on the part of Aden. More Information with activities, related books and links.
VIRGINIA
* * * Reeder, Carolyn Shades of Gray
Simon & Schuster, 1989 ISBN 0027758109
Grades 4 - 8. Order Info
Twelve year old Will Page is a grieving and angry boy when he moves in with his relatives in the Piedmont region of Virginia. Will's family in Winchester, Virginia has been wiped out in the Civil War. Will's anger is directed at the Union Army, of course, but also at the uncle with whom he now lives. Uncle Jed refused to take sides in the war and Will considers him a traitor and a coward, a feeling shared by most of Jed's neighbors. More Information.
WASHINGTON
* * * Thesman, Jean The Rain Catchers
Houghton, 1991 ISBN 0395553334
Grades 4 - 8. Order Info
Gray, 14 lives in her grandmother's home where the clocks have no hands. She shares the home with her great aunt Minette, Minette's daughter, and her grandmother's cousin and a family friend, Dr. Belle Russell. Together these women share stories of their past over and over again as they drink tea and wait for the rain to fall through the honeysuckle. They all have lives of their own, one writes, one is a famous medical consultant, one runs a company but the sense of family is powerful. The household is an oasis of sanity and a solid footing from which the women and girls take their strength.

WEST VIRGINIA
* * * Naylor, Phyllis Reynolds Shiloh
Atheneum, 1991 ISBN 0440407524
Grades 3 - 6. Order Info
When Marty finds and befriends an abused dog and his father demands that he return Shiloh to his owner, Marty must choose between deceit and truth. He does return Shiloh once, but when Shiloh returns, half starved, Marty cannot betray the dog's faith. He hides Shiloh in the woods until his perfidity is discovered and Marty must face his parents' wrath and that of Shiloh's owner. This simple book is a strong and thoughtful animal story. More Information.
WISCONSIN
Henkes, Kevin Protecting Marie
Greenwillow, 1995 ISBN 0688139582
Grades 4 - 6. Order Info
Fanny's mother is fortyish, beautiful and the anchor of their family. Her father is sixty, moody, a talented artist and a demanding man. Both, however, adore their only child and reach out to her in remarkably open ways. Fanny's relationship with her mother is open and loving. Her father, however, has given her reason to distrust him. Once he brought her a puppy and then found the puppy's antics so distracting to his work that he made her give the puppy away. Now, her father is blocked in his painting, depressed about turning sixty and often angry and withdrawn. He wants, even demands, understanding by his wife and daughter. His wife gives that understanding quite consistently. Fanny alternates hating and loving him. When he brings her another dog, this one grown and well trained, she hesitates to love the dog and, after she does so, she lives in constant fear that her father will take him away.
WYOMING
* * * Paulsen, Gary The Haymeadow
Delacorte, 1992 ISBN 0385306210
Grades 5 - 9. Order Info
John Baron has just turned fourteen when he is sent by his stern, uncommunicative father to spend the summer in the haymeadow. He'll be alone with six thousand sheep, two horses and four dogs. Fortunately, the dogs are trained sheepherders, because without them, John could do it. John has always identified with and tried to emulate his grandfather as he's been depicted in the stories about him.
In the haymeadow, John comes to face his fears as well as his dreams. When his father comes to the haymeadow, he also faces him and finds out the truth about his grandfather, his father and himself. More Information.

Related Areas of Carol Hurst's Children's Literature Site