Art & Max


by David Wiesner.

Picture Book. 40 pages. Grades K-4.
Find this book: Amazon

Review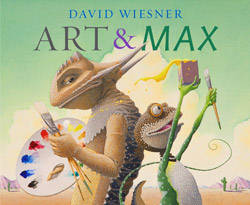 Art and Max are lizards. Art has painted a beautiful portrait and now Max is excited to learn how to paint too. Art is not thrilled with the idea, but he suggests that Max paint him. Taking the suggestion literally, Max paints Art himself at which point a furious Art shakes off the paint and, somehow, his original color and scales. Max's attempts to help only make things worse until Art is just an outline, which, of course, unravels.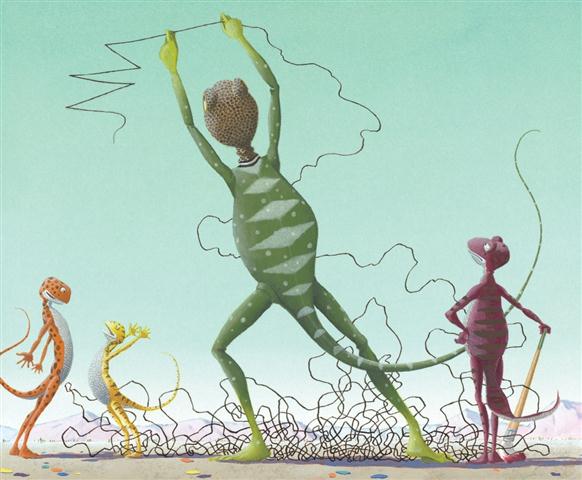 With other lizards looking on Max eventually recreates Art, this time with glorious pointillist colors. The whole process has changed their outlook on artistic style and now they both happily return to painting—Art splattering a cactus à la Jackson Pollock and Max creating a pointillist portrait of two other lizards.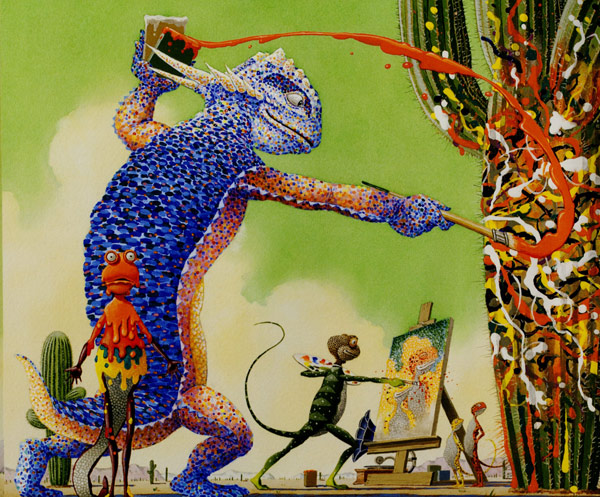 Like much of Wiesner's work this book has a surreal quality. Kids will find it odd, but also intriguing. This is another nice book on breaking away from staid traditional representational art and toward experimenting with bolder creativity. There are parallels to life as well as the artistic reference.
(Continued Below)
---
Advertisement:
---
(Continued Below)
---
Advertisement:
---

Related Books
Grades PreK - 9
The Artist Who Painted a Blue Horse by Eric Carle. Picture Book. 32 pages.
Find this book: Local Bookstore, Amazon, B&N

In his first book in four years Eric Carle honors one of the great artists who inspired his singular style. The title gives a hint as to the identity of the boy narrator of the story. However, the story itself is a simple, almost wordless, tale of a child painting--a blue horse, a red alligator, a pink rabbit, a yellow cow and more. Our narrator closes with, "I am a good artist." It is only after this that Carle includes a reproduction of "Blue Horse" by Franz Marc along with a short biography. Read More.

Grades K - 3
Art Lesson by Tomie dePaola. Picture Book. 32 pages.
Find this book: Local Bookstore, Amazon, B&N

Tommy loves art and has been encouraged to imagine and create since he was tiny. As school time approaches, he is thrilled because he's been told that the school has an art teacher and Tommy wants to know more and do more with art. He is frustrated however to find that he must only use certain colors and must copy the teacher's directions.
(Continued Below)
---
Advertisement:
---

Related Areas Within Carol Hurst's Children's Literature Web Site