The Birchbark House


by Louise Erdrich.

Novel. 256 pages. Grades 3-7.
Find this book: Amazon

Teacher's Guide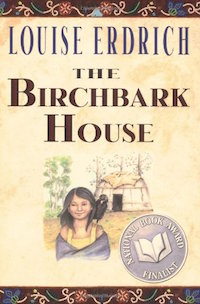 The Birchbark House is what many of us have been seeking for many years: a good story through which the Native American culture during the Westward Expansion of the United States is realistically and sympathetically portrayed. This band of Ojibwa (old name: Anishinabe) live on an island in Lake Superior and we are witness to much of the custom and ritual, successes and tragedies of these people who lived so closely bound to the earth. The book has been nominated for the National Book Award for Young People's Literature. It makes an excellent read-aloud choice for children as young as third grade and should appeal to youngsters all the way up through seventh, at least.
It's the good story and strong characterization that lift what could have been earnest and dull into the realm of good literature. If you are introducing children of any culture to that period of United States history or just looking for a good book to share, you will want this book to begin to balance the picture.
The author is a member of the Turtle Band of Ojibwa and has written several outstanding novels for adults. This is her first children's novel and she's done a remarkable job.
The non-Indian settlers and voyageurs, called "chimookomanug", are viewed from a variety of perspectives. One man, Fishtail, is going to the mission school to learn their language so that he will know what the treaties say. Deydey, Omakayas' father is half white and loathes and ridicules the chimookomanug, yet he trades with them for his living. Old Tallow refuses to have anything to do with them. Fishtail compares them to greedy children, always wanting more. Omakayas herself seems removed from their influence.
The story itself is divided into seasons: neebin (summer), dagwaging (fall), biboon (winter), and zeegwun (spring). We first meet the main character, Omakayas, age seven, as she and her grandmother, Nokomis, search for birch bark for the birchbark house they will live in until next fall. Nokomis is wise and her relationship with Omakayas is strong and loving.
Old Tallow, an eccentric old woman, is another vital character in this story. She has no children although she has had three husbands. Tall and powerful even in her advanced age, she is guarded by three fierce dogs and has little patience for most humans. Omakayas, however, is treated with kindness and it is within Old Tallow that the secret of the story lies.
Comic relief is provided by the antics of Little Pinch and by the character of Albert LaPautre who comes to Deydey frequently sure that his latest dream is significant. Although the others are amused, they take care not to hurt his feelings.
One evening at the dance lodge, a visitor comes with his voyageur crew. He says little and appears ill. The scourge he brought is smallpox. One by one, everyone in the family becomes ill. Eventually Omakayas is the only one not stricken and she nurses the others tirelessly. In spite of her efforts, her baby brother dies. Many others in the community also lose their lives but it is the death of her brother that changes Omakayas into a sad, joyless being. Old Tallow brings Omakayas her only relief and encouragement.
The very last pages of the book contain the secret of Omakayas and bring the whole book full circle.
(Continued Below)
---
Advertisement:
---

Things to Talk About and Notice
As you begin sharing reactions to this book, stay within its confines for a while. Read favorite sections aloud to each other and describe your reaction. Consider each character, no matter how briefly the appearance, in relationship to the other characters in the story.

Activities
There's so much here for discussion and research that it's hard to know where to begin. Encourage the kids to grab the angle that appeals to them and go with it. Certainly you'll want to locate the setting and describe the topography of the area. Tracing the Anishinabe as they were moved farther and farther west might be the next step.

The rituals and beliefs of the people may intrigue some readers. Comparing them to those of other cultures may be a thread to follow.

Notice the creation story that Nokomis tells and compare it to creation stories from around the world, particularly in Virginia Hamilton's book In the Beginning: Creation Stories from Around the World (Harcourt, 1991 ISBN 0152387404).

You'll want to compare this view of the westward expansion with those in other novels such as:
Grasshopper Summer by Ann Turner (Troll, 1991 ISBN 0816722625.)
Call Me Francis Tucket by Gary Paulsen (Yearling, 1996 ISBN 0440412706.)
The Cabin Faced West by Jean Fritz (Viking, 1987 ISBN 0 140 32256 6)
Prairie Songs by Pam Conrad (HarperTrophy, 1993 ISBN 0 06 440206 1)
The Way West by Amelia Knight (Simon & Schuster, 1993 ISBN 0 67172375 8)
The Log Cabin Quilt by Ellen Howard (Holiday House, 1996 ISBN 0 8234 1247 4).

Be sure to add to the Native American viewpoint by including:
The Life and Death of Crazy Horse by Russell Freedman (Holiday House, 1996 ISBN 0 8234 1219 9)
Plains Warrior by Albert Marrin (Atheneum, 1996 ISBN 0 689 80081 9)
Sweetgrass by Jan Hudson (Paper Star, 1999 ISBN 0 698 11763 8)
Morning Girl by Michael Dorris (Hyperion, 1999 ISBN 0 786 81358 X)
Guests also by Michael Dorris (Hyperion, 1994 ISBN 0 786 80047 X).
(Continued Below)
---
Advertisement:
---
(Continued Below)
---
Advertisement:
---

Related Areas Within Carol Hurst's Children's Literature Web Site