Kitten's First Full Moon


by Kevin Henkes.

Picture Book. 40 pages. Grades PreK-2.
Find this book: Amazon

Review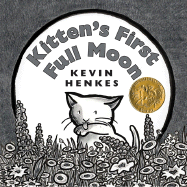 Kevin Henkes is an incredibly versatile creator of children's books. He has delighted us with many volumes of his humanoid mice tales and immersed us in splendid characters and plots in his novels for young people. Here he returns to the picture book using an entirely different style of text and illustration.
The plot is simple. A kitten decides that the full moon is a saucer of milk just waiting for his use and tries every means possible to get it.
The charcoal illustrations are shades of gray against a creamy white. Unlike the strokes in his mouse books, these are broad, decorating the page with curving lines.
This book is also available in Spanish and Japanese.
(Continued Below)
---
Advertisement:
---

Things to Talk About and Notice
The art in the book can be used to talk about and experiment with positive and negative space. Positive space is something that is depicted and negative space is the areas between objects that can have its own effect.

You can make a series of cause and effect statements about the action in this book:
The kitten falls into the water because . . .
The kitten became frightened because . . .
Make up some more sentences following that pattern.

Activities
Henkes' palette of grays and white makes an excellent opportunity for children to explore using a two color palette themselves. Put out tempera paint in shades from black to white, craft paper in the same shades and allow children to make their own creations. Display them against a black background.

The kitten thinks the full moon looks like a saucer of milk. Make a list of the other things various people or animals might decide the moon looks like. Read It Looked Like Spilt Milk by Charles Shaw (HarperTrophy, 1988 ISBN 0064431592) for other play with white shapes.
(Continued Below)
---
Advertisement:
---

Related Books
Owl At Home by Arnold Lobel. (1975, HarperCollins. ISBN 9780060239497. Order Info.) Easy Reader. 64 pages. Gr PreK-3.
Owl is more than confused; he's crazy, but his innocence is delightful. When the wind rattles the door, he lets it in to destroy his house. When he is upstairs, he wonders if he's downstairs and tries to be both. When he discovers strange bumps at the foot of his bed, he becomes furious, never realizing that they are his feet. The book is a so-called easy to read and has short, choppy sentences which we used to think made reading easier, but Lobel's talent for storytelling is so great, it overcomes the artificial boundaries he puts on it. Read More.

Happy Birthday, Moon by Frank Asch. (2000, Aladdin. ISBN 9780689835445. Order Info.) Picture Book. 32 pages. Gr PreK-1.
Bear's friendship with the moon is the focus of the Moonbear series. Here he gives the moon the gift of a hat. When talking to the moon, Bear thinks the echo of his speech is the moon talking to him

Papa, Please Get the Moon for Me by Eric Carle. (1986, Simon & Schuster. ISBN 9780887081774. Order Info.) Picture Book. 40 pages. Gr PreK-2.
Monica wants the moon and her father sets out to get it for her. Pages of the book unfold as his climb heightens. When he gets to the moon, he finds it too big to carry home. There is a resolution, however.
(Continued Below)
---
Advertisement:
---

Related Areas Within Carol Hurst's Children's Literature Web Site