The Watsons Go to Birmingham--1963


by Christopher Paul Curtis.

Novel. 224 pages. Grades 4-8.
Find this book: Amazon

Teacher's Guide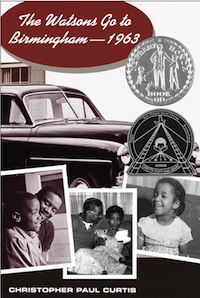 This is a very special book. It starts with humor and ends with tragedy. The Watsons: Mother, Father, older son Byron, next son Kenny and daughter Joetta live in Flint, Michigan. Most of the first part of the book is devoted to the high-jinks, many of them hilarious, of Byron who walks on the edge of delinquency. Often it's the tears and protests of the little sister that keeps Byron from being severely punished. Although his parents are loving and have great senses of humor, they are finally pushed into doing something drastic about Byron. The decision is made to drive to Birmingham, where Mrs. Watsons' mother lives and leave Byron with her for the summer, maybe even for the next school year.
The car trip to Birmingham brings the children to their first experience with segregation. After a warm welcome at their Grandmother Sands' house, it is Kenny, not Byron, who gets in trouble. He nearly drowns and it is Byron who saves him. The real climax, however, comes when the church Sunday school that Joetta is attending is bombed. Fortunately, she escapes injury but it is some time before the family realizes this. The horror of it all is too much for Kenny. The family, including Byron, come back to Michigan and, again, it is Byron who saves the day by helping Kenny accept the unfairness of the tragedy.
(Continued Below)
---
Advertisement:
---

Things to Talk About and Notice
The Watsons Go to Birmingham has many funny parts. Then it turns from humor to tragedy. How does the author's writing manage to do that? Are there earlier hints that the tragedy is coming?

Notice the bullying that goes on in this story. How do you define bullying? Why does it happen? How do people in the story respond to it?

Activities
Compare Flint, Michigan with Birmingham, Alabama using specifics from the novel. A Venn diagram can be used to graphically show characteristics of Flint and Birmingham and where they overlap.

Once you're into the story to the point of the first exposures to the segregation of the south this is a good time to bring out nonfiction books about racial inequality and Jim Crow laws at that time. (See below)

This is a good book for charting the ways in which characters in the story change and what situations precipitated the changes.

During school desegregation in the South, Norman Rockwell painted a particularly poignant illustration of a young African American girl being escorted to school by US marshals. Find a copy of that picture. It is still creating controversy. How does that painting affect you? How do you think it might have affected people in America at the time?

Design a survey about the changes that people perceive to have occurred in racism over time. Conduct the survey. Tabulate your results.

Prepare a time line showing how and when changes in racial relations occurred. Include such matters as voting rights, career opportunities, desegregation, Jim Crow laws, and property rights.

Research the history of the Ku Klux Klan. How is it perceived today? Has our perception changed over the years? Is the Klan active in your community today? Why?
(Continued Below)
---
Advertisement:
---

Related Books
One Crazy Summer by Rita Williams-Garcia. (2010, Amistad/HarperCollins. ISBN 9780060760885. Order Info.) Novel. 218 pages. Gr 4-9.
It's the summer of 1968 in Oakland, California in the San Francisco Bay area. Eleven year old Delphine and her two younger sisters spend a month with their mother who had deserted them years ago in Brooklyn. It's the height of the Black Power movement and the girls spend their days at the Black Panther's People's Center while their unstable mother writes poetry. This Newbery Honor Book is a fascinating look into the time period as well as an engrossing tale of one girl's struggle to understand her mother and to find her own authentic way of related to her.

Grades 5 - 9
Brown Girl Dreaming by Jacqueline Woodson. Memoir. 336 pages.
Find this book: Local Bookstore, Amazon, B&N

Brown Girl Dreaming just won the National Book Award and it's quite a gem. It's a book length memoir in verse of the author growing up in the sixties and seventies as well as some of her family history. Living in both South Carolina and then Brooklyn, New York we get to see the life of an African American family in the North and the South. Set against the backdrop of the Civil Rights Movement there is a lot of history here. Read More.

Grades 7 - 12
They Called Themselves the K.K.K.: The Birth of an America Terrorist Group by Susan Campbell Bartoletti. Nonfiction. 172 pages.
Find this book: Local Bookstore, Amazon, B&N

In 2009 there were 932 active hate groups in the US including Ku Klux Klan chapters. This makes it more important than ever to have a book such as this which describes in great detail their early years. Bartoletti uses primary sources (newspapers, documented interviews, photographs and political cartoons) to great effect here. Her research is thorough and she writes about it brilliantly bringing it to frightening life for 21st century readers. Highly recommended. Read More.

Grades PreK - 8
Little Blue and Little Yellow by Leo Lionni. Picture Book. 48 pages.
Find this book: Local Bookstore, Amazon, B&N

On a surface level, the book about friendship is easily understood by preschoolers. On a slightly deeper level, the story is about color and how primary colors can be combined to make secondary ones. Digging deeper, it may be viewed as an allegory for racism and, as such, is one to intrigue older readers and viewers. Read More.

Grades 6 - 12
Miles to Go for Freedom: Segregation and Civil Rights in the Jim Crow Years by Linda Barrett Osborne. Nonfiction. 128 pages.
Find this book: Local Bookstore, Amazon, B&N

Here's a topnotch exploration of race relations from 1890 through the 1950's in the US. Osborne gives us a comprehensive look at this horrific side of our past with an understated clarity that makes the facts all the more moving. Covering the North as well as the South this book is full of primary source quotes, photos, and illustrations from the period. The book ends with the momentous Brown vs The Board of Education decision and the beginning of the Civil Rights Movement. The back of the book includes a time line, notes, and a bibliography. We highly recommend it.

Grades 4 - 8
Bud, Not Buddy by Christopher Paul Curtis. Novel. 256 pages.
Find this book: Local Bookstore, Amazon, B&N

In this Newbery Award winning book we are asked to believe that a ten-year-old boy, without resources other than his own self-constructed list of rules "to Have a Funner Life and Make a Better Liar Out of Yourself", will find love, a home and a real family. Such is the skill of Christopher Paul Curtis that we take all that and more with hardly a nod toward the percentages. Meet Bud, not Buddy, one of the most delightful young people you'll ever know. The setting of the 1930s, the height of the Great Depression and the small tastes of racism that the author weaves in so skillfully make this book stand head and shoulders above the crowd. Read More in our Featured Book Teachers Guide with discussion questions, extension activities, related books and links.
(Continued Below)
---
Advertisement:
---

Related Areas Within Carol Hurst's Children's Literature Web Site