Carol Hurst's Children's Literature Site
Newsletter Volume 16, Number 1

Let It Snow, Let It Snow!
for Grades Preschool through Ninth

Please visit our advertisers who make this newsletter possible:



This sponsorship spot highlights Carol Otis Hurst's own Terrible Storm based on her two grandfathers' joint story of the blizzard of 1888.

"This lively, clever story, based on a real storm, neatly captures both the oddities of nature and how differing natures view the same event." -- * Booklist starred review

As I write this (January 2011 in the Northeastern USA) it's below zero (Fahrenheit) outside and yet another major snowstorm is headed our way. I've tried thinking of warm sunny places but decided it's time to stop fighting it and embrace winter.
So here are my suggestions of some great books and activities for your classroom related to the season for preschool through ninth grade.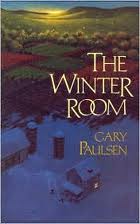 On our website check out the Featured Subject Literature-Based Cross-Curriculum Classroom Unit on Winter at:
http://www.carolhurst.com/subjects/winter.html
It includes activities, picture books, novels, nonfiction titles and links to immerse your students in the cold and snow of winter in temperate climates.

Here, in particular, are four of my favorite books on the topic:
Snowflake Bentley by Jacqueline Briggs Martin. Illustrated by Mary Azarian. (1998, Houghton. ISBN 0395861624. Order Info.) Picture Book, Nonfiction. 32 pages. Gr 2-9.

Snowflake Bentley celebrates one man's lifelong passion. Wilson Bentley was fascinated by snowflakes. Born in Vermont where, as the text says, "Snow in Vermont is as common as dirt" in 1865, his parents supported his interest, spending their savings to buy him a camera and microscope. His thousands of photographs are still used in studies today. Martin tells the tale simply with sidebars adding further information about the science behind Bentley's studies. Azarian's illustrations are woodcuts and suit the lyrical text perfectly. Read More including some activities and a great list of links to websites about snow or snowflakes.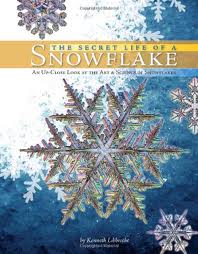 A new book out by Libbrecht in the past year is a great title about snowflakes, The Secret Life of Snowflakes.
The Secret Life of a Snowflake: An Up-Close Look at the Art and Science of Snowflakes by Kenneth Libbrecht. (2010, Voyageur. ISBN 9780760336762. Order Info.) Nonfiction Picture Book. 48 pages. Gr 4-9.
Libbrecht, a physicist, takes photos of snowflakes with a microscope. The photos are simply stunning. No unit on snow or winter is complete without this or one of his books for adults. This is a wonderful science and photography book. Use it with other books about scientists because we get a glimpse of Libbrecht's work through this book. This also belongs in any unit on crystal formation or weather. Instructions on how to cut a scientifically correct snowflake out of paper are included. You can read our review here.
If you go to the Amazon.com page about this book you can click on the cover to "Look Inside" this title and see some of the snowflake photos as well as get a sense of the text/photo layout of this book. You can scroll down to see several pages. Once you're in the pop-up window that shows some of the pages inside the book click on the "surprise me" link to the left a few times to get the viewer to show more pages from the inside of the book. While this title is interesting for people of any age older students will also be fascinated by two of his books for adults, The Snowflake and The Art of the Snowflake: A Photographic Album. If you're collecting snowflakes as a classroom activity you can use his Ken Libbrecht's Field Guide to Snowflakes to identify your flakes. You can also learn a lot about snowflakes by visiting his web page: http://www.its.caltech.edu/~atomic/snowcrystals/

Snow by Uri Shulevitz. (1998, Farrar, Strauss. ISBN 0374370923. Order Info.) Picture Book. 32 pages. Gr PreK-4.
There are few words in the entire book, it's the illustrations that carry the story. Villagers go about their business. The text points us to a tiny dot we might otherwise have missed--one snowflake. A boy and his dog don't miss it and they react joyfully even though the grandfather downplays it. After all, it's only one snowflake. More and more snowflakes appear in the sky and the boy and dog maintain that it is indeed snowing. Townspeople, the radio and even the television proclaim that it is not, but the flakes keep coming. There are wonderful images of the townspeople, covered and bent over with snow while denying its existence but only the boy and dog enjoy it. This is a book about the weather and the joy it can bring. Read More.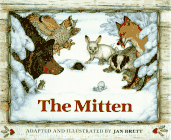 The Mitten by Jan Brett. (1989, Putnam. ISBN 039921920X.) Picture Book. 32 pages. Gr PreK-2.
Find this book: Local Bookstore, Amazon
, B&N


Jan Brett has put her own spin on the familiar folk theme of a shelter that stretches to accommodate each new occupant. Here, based on a Ukrainian tale, it's a boy, Nicki, who begs his grandmother, Baba, to knit him a pair of white mittens. A mole discovers the mitten lying on the snow and crawls inside, followed by a snowshoe rabbit, a hedgehog, an owl, a badger, a fox, a bear, and finally a mouse. Read More in our Featured Book article including classroom activities, related books and links.

Also on our website is a Featured Subject Literature-Based Cross-Curriculum Classroom Unit on Weather at:
http://www.carolhurst.com/subjects/weather.html
It includes picture books, novels, nonfiction, and activities for use in the classroom for grades PreKindergarten through nine.

Starting in the early morning hours of January 21st we've had a huge influx of new subscribers to the newsletter. Welcome to everyone. If any of the new subscribers know why there should suddenly be an increase I'd love to hear from you. I've been poking around for different possibilities but my curiosity still goes unanswered.
The next newsletter, in March or April, will be about insects and spiders. I'm already knee deep in books with creepy crawly faces on the covers staring out at me. So, spring must be just around the corner. Stay tuned.

That's it for this issue.
Happy reading!
- Rebecca Otis

Please visit our advertisers who make this newsletter possible:


This sponsorship spot highlights Carol Otis Hurst's own Terrible Storm based on her two grandfathers' joint story of the blizzard of 1888.

"This lively, clever story, based on a real storm, neatly captures both the oddities of nature and how differing natures view the same event." -- * Booklist starred review

---
Advertisement:
---
---
Advertisement:
---
---
Advertisement:
---