Carol Hurst's Children's Literature Site Newsletter
Volume 19. Issue 4.

New Additions to Our Site
Preschool through Ninth Grade, Writing Advice, World War II, Winter Adaptations, Memoir, Easy-Reader, and More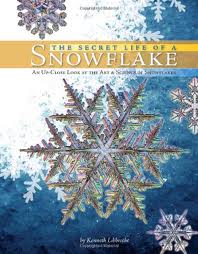 The first major snowstorm arrived Wednesday here in Massachusetts. I'm always torn between sadness over fall ending and giddiness about the preposterous beauty of the first snowflakes, which I've always been mesmerized by. There's a great kids' book about snowflakes that both adults and children will love—amazing photos. It's The Secret Life of Snowflakes by Kenneth Libbrecht (read review).
Check out our featured subject article about winter with recommended books and classroom activities for preschool through ninth grade. One of the books, Snowflake Bentley by Jacqueline Briggs Martin, is a lovely second grade and up picture book biography of the passionate man who first developed a way to take close up photos of snowflakes in the late 1800s. We include discussion and activity ideas for expanding the book with students.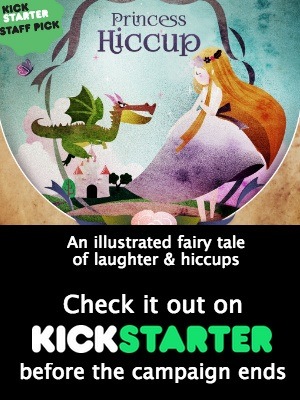 In this newsletter we feature a few of the books we've recently added to the website as well as a couple of teacher's guides.
For new reviews there's Have You Seen My New Blue Socks? where a duck in Seuss-like rhyme goes searching for his socks with silly humor. Then Spilling Ink, for fifth grade through ninth, is a nonfiction title full of friendly advice about writing. With The Unfinished Life of Addison Stone we have a sophisticated piece of metafiction, for ninth grade and up, about a young artist whose passionate commitment to her art may or may not have led to her death. Then there's Brown Girl Dreaming, which just won the National Book Award. It's a wonderful free verse memoir of the author's childhood in the 60s and 70s for fifth grade and up. Lastly there's Winter Bees & Other Poems of the Cold an inspired book of poetry about how different animals have adapted to the winter.
Also in this newsletter are teachers' guides to a couple of classics: Stepping on the Cracks for fourth grade and up set in the US home front during World War II and Shades of Gray for fifth grade and up set in Virginia during the Civil War. Both contain classroom discussion and activity ideas as well as an annotated list of related books.

Reviews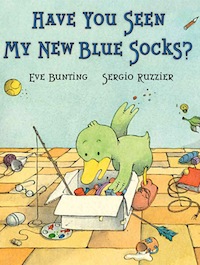 Grades PreK - 3
Have You Seen My New Blue Socks? by Eve Bunting. Illustrated by Sergio Ruzzier. Picture Book. 32 pages.
A young green duck has lost his socks. He goes out across the countryside asking the other animals for help in the familiar motif of many children's stories. This one is particularly charming and humorous. Good for early readers. Read More.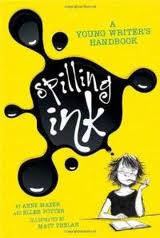 Grades 5 - 9
Spilling Ink: A Young Writer's Handbook by Anne Mazer. Illustrated by Matt Phelan. Nonfiction. 288 pages.
There are specific suggestions here but the entire work comes off more in the style of coaching or of a veteran sending back stories from their own experiences. It has just the right tone of encouraging and inspiring without intimidating the reader. It blows lightly but quite decisively on the embers of inspiration. Read More.
(Continued Below)
---
Advertisement:
---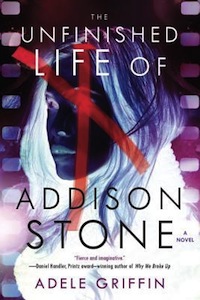 Grades 9 - 12
The Unfinished Life of Addison Stone: A Novel by Adele Griffin. Novel. 256 pages.
Seventeen-year-old Addison is dead. Deeply committed to her art and possessed of an innate wildness she became famous in New York City creating portraits and performance art. Was her death an accident? suicide? murder? Adele Griffin writes this novel as if it's a real person whom she is documenting. Extensive photos and the purported artwork of the main character further sweep us into the illusion that we are reading fact instead of a novel. Read More.

Grades 5 - 9
Brown Girl Dreaming by Jacqueline Woodson. Memoir. 336 pages.
Brown Girl Dreaming just won the National Book Award and it's quite a gem. It's a book length memoir in verse of the author growing up in the sixties and seventies as well as some of her family history. Living in both South Carolina and then Brooklyn, New York we get to see the life of an African American family in the North and the South. Set against the backdrop of the Civil Rights Movement there is a lot of history here. Read More.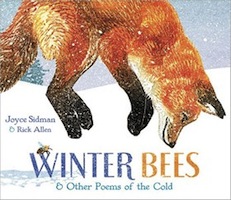 Grades 1 - 4
Winter Bees & Other Poems of the Cold by Joyce Sidman. Illustrated by Rick Allen. Poetry. 32 pages.
Poetry, factual text and extraordinary illustrations fill this book about how some animals have adapted to winter. Swans, snakes, beavers, moose and more fill the cold setting with life and warmth. The poems are wonderful and varied. Each poem is accompanied, on the facing page, with facts about the poem's subject. On both pages of each spread are the remarkable illustrations done, in part, with hand inked linoleum blocks. This poet/illustrator team has, once again, created a treasure. Read More.
(Continued Below)
---
Advertisement:
---
Teachers' Guides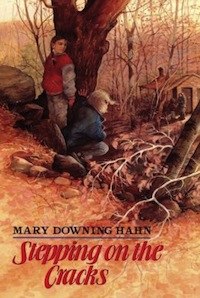 Grades 4 - 7
Stepping on the Cracks by Mary Downing Hahn. Novel. 224 pages.
In 1944, while her brother is overseas fighting in World War II, eleven-year-old Margaret gets a new view on the school bully Gordy, when she finds him hiding his brother Stuart, an army deserter, and decides to help him. When Margaret's own brother is killed in the war, her feelings toward Stuart become more complicated. Read More in our Featured Book Teachers Guide with discussion questions, extension activities, related books and links.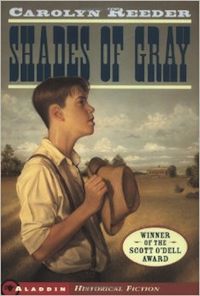 Grades 5 - 8
Shades of Gray by Carolyn Reeder. Novel. 160 pages.
Twelve-year-old Will's family in Winchester, Virginia has been wiped out in the Civil War. His father fought bravely in the Confederate Army, his sisters died of a disease that Will is convinced was carried by the Yankees and his mother died soon afterward. Now he's come to live with Uncle Jed who refused to take sides in the war and whom Will's family considered a traitor and a coward, a feeling shared by most of Jed's neighbors. Read More.
(Continued Below)
---
Advertisement:
---

Related Areas of Carol Hurst's Children's Literature Site

---
That's it for this issue.
Happy reading!
- Rebecca Otis
You can read back issues of this newsletter in our archives at:
http://www.carolhurst.com/newsletters/newsletters.html

Please visit our advertisers who make this newsletter possible: