Sports Books and Activities for the Classroom
In spite of the popularity of this subject, sports is seldom approached within the school curriculum, so it hasn't been done to death. Sports is almost all-inclusive as far as curriculum areas are concerned and is great for a cross-curriculum unit or a school-wide focus.
It can be studied as physical science: projectiles and laws of motion, for instance. Its connection with history is obvious and it can also be studied sociologically: group dynamics, effects of competition, and self-concept. For music, there are not only the songs about sports but the role of bands as part of competitive sports.
Mathematics is easily included, not only for the statistics and their analysis, but for calculations about possible human speeds and feats based on current knowledge. There are also, of course, the economics of sports and that can be treated mathematically, or sociologically. Physical education includes health and safety as well as the various sports themselves. Geography can be included by looking at sports and games in various countries and through the Olympic games.
Finally, all these great books fill any unit with reading and writing opportunities.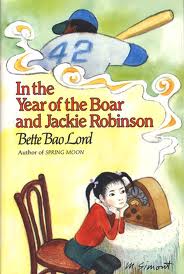 Here are some activities to get your ideas flowing. Below them is a wonderful selection of picture books, novels, and nonfiction (informational text) titles for you and your students. There's something for everyone, boys and girls from preschool through ninth grade.
Activities
Create a photographic timeline of sports uniforms.
Read a sports biography. Then read newspaper and magazine articles about the same person. Decide whether the biography or the periodical accounts is more accurate.
Which sports should be added to the Olympic Games? Which events should be taken out?
Do research about the Olympic Games. Make a display of the most interesting information found.
Do dramatic readings of "Casey at the Bat."
Formula Writing:

To establish what formula writing is, make a list of the formulas common in sports fiction such as:

weak player becomes hero during big game
hero shows weakness during big game

As books are read for the theme, add formulas to the list.
Some authors take formulas such as those above and twist them in such a way as to lift the story above the formula. Others follow a formula but their level of writing is such that we are hardly aware of the familiar plot. Use these and other observations to conduct dialogues on the books read.
There are many debates, of course, that a theme on sports can and should engender. Make sure that they use nonfiction sources to buttress their arguments for and against such practices as hunting and dog racing which almost automatically encourage people to take a stand. Other debate material could be: the purpose of team sports in educational institutions, the amount of money involved in professional and amateur sports, the purposes and results of athletic scholarships, sexism and racism in sports, the use and abuse of sports' fame, the role of sports heroes, and whether some sports should be outlawed or drastically changed.
Analyze each student's chosen sport as far as physical science is concerned. Put the laws of motion on the board and figure out together the way those laws are demonstrated in each sport. Design experiments to demonstrate them. What can be measured and how?
(Continued Below)
---
Advertisement:
---
Find out about changes in equipment for each sport over the years and determine the price, if any, which has been paid for increased safety. Should further protection be added to any sport?
Pick ideal teams for a sport, selecting players based on past performance and follow your hypothetical team through a season, calculating wins and losses and other statistics.
Look at artistic depictions of sport such as painting, sculpture, and photography.
Read some sports newspaper and magazine columns and compare the writing styles and literary quality of the work.
Books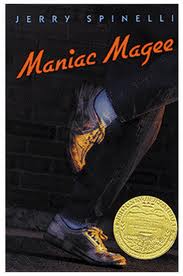 Grades 3 - 9
Maniac Magee by Jerry Spinelli. Novel. 180 pages.
Find this book: Local Bookstore, Amazon
, B&N


Meet Jeffrey Lionel Magee, sometimes known as Maniac Magee, and the people of the fictional town of Two Mills. Maniac runs away from home and ends up in Two Mills, a racially split town where he becomes a catalyst for change. This excellent novel is about prejudice, love, home, baseball, fear and understanding. Read More in our Featured Book article including classroom activities, related books and links.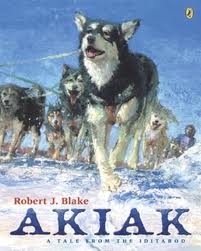 Grades 1 - 5
Akiak: A Tale from the Iditarod by Robert J. Blake. Picture Book. 32 pages.
Find this book: Local Bookstore, Amazon
, B&N


Within these 32 pages you get striking and informative illustrations, an exciting story, and hooks to math, geography, science and history. The text gives us a day-by-day account of a woman, Mick, and her dog team, but the star of the book is the lead dog, Akiak. At ten, this will be Akiak's last chance to win. This is a wonderful story. Share it with kids from first grade up after you've told them a bit about the Iditarod. Read More.

Grades 5 - 8
The Moves Make the Man by Bruce Brooks. Novel. 256 pages.
Find this book: Local Bookstore, Amazon
, B&N


Jerome Foxworthy, 13, ace student, first black in an all-white school and a basketball fanatic, narrates this story of his friendship with Bix. Bix's game is baseball, but Jerome recognizes in his skill the same passion and technical accuracy that he himself has in his sport. This is an exquisite portrait of Jerome, a bright, confident loner and Bix, distant and frightened, and the fragile friendship that develops between them. Read More.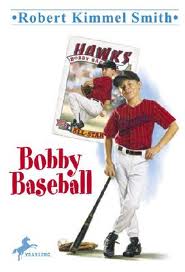 Grades 3 - 6
Bobby Baseball by Robert Kimmel Smith. Novel. 176 pages.
Find this book: Local Bookstore, Amazon
, B&N


Bobby Ellis calls himself Bobby Baseball and the name is not as crazy as some of his friends think. Bobby dreams, writes and plays baseball. His father made it to professional baseball though never the major leagues, but Bobby has his own path to the majors figured out. He will become a great pitcher in little league, move on to the semi-pros and, not only the major leagues, but to the Baseball Hall of Fame. His father is the coach of Bobby's team and he does let Bobby pitch, but it's the beginning of the end of Bobby's dream. Read More.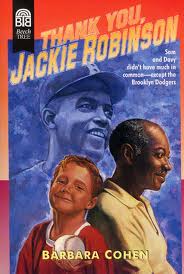 Grades 4 - 7
Thank You, Jackie Robinson by Barbara Cohen. Illustrated by John Steptoe. Novel. 128 pages.
Find this book: Local Bookstore, Amazon
, B&N


Sam Green is nuts about baseball. His mother runs an inn in New Jersey and Sam's best friend is Davy, the African American cook at the inn. They especially admire Jackie Robinson, the first black man in major league baseball. Together Davy and Sam set out to see a game at each ballpark within a day's drive of their home. They can't go any farther than that since, in the 1940's, segregation prevents Davy from entering any restaurant or hotel. When Davy has a heart attack, Sam musters up his courage and gets past many obstacles to get Jackie Robinson's autograph on a baseball for Davy, somehow convinced that the ball will make him better. Read More.
(Continued Below)
---
Advertisement:
---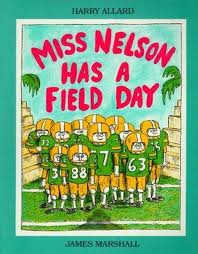 Grades PreK - 3
Miss Nelson Has a Field Day by Harry Allard. Illustrated by James Marshall. Picture Book. 32 pages.
Find this book: Local Bookstore, Amazon
, B&N


In this sequel to "Miss Nelson Is Missing," the football team and especially the football coach at Horace B. Smedley School are despondent. The big game is coming and they haven't a chance of winning. Miss Nelson talks Coach Armstrong into taking a much needed rest and Miss Viola Swamp appears to whip the team into shape.

Grades 5 - 9
What Hearts by Bruce Brooks. Novel. 208 pages.
Find this book: Local Bookstore, Amazon
, B&N


Told in four stories, the book gives us a longitudinal study of the life of a gifted child. In the first vignette, Asa arrives home to find that his parents are divorcing, and he and his mother are moving. Next Asa's mother announces that she is marrying Dave, much to Asa's disgust. In the third vignette, Asa determines to excel in baseball and, surprisingly, Dave helps. The last vignette has Asa in love with Jean, a lovely schoolmate who seems to like him. Read More.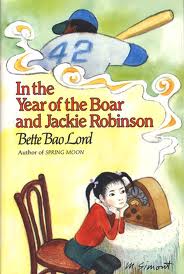 Grades 4 - 8
In the Year of the Boar & Jackie Robinson by Bette Bao Lord. Illustrated by Marc Simont. Novel. 176 pages.
Find this book: Local Bookstore, Amazon
, B&N


Shirley Temple Wong has come from China with her mother to join her father who has been living in Brooklyn preparing for their arrival. Adjustment to the new culture is not easy for Shirley, used to the extended family and customs of China. One of the few joys she has is in American baseball and she finally gets to meet her idol, Jackie Robinson.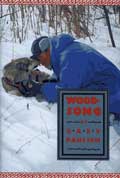 Grades 3 - 9
Woodsong by Gary Paulsen. Novel. 144 pages.
Find this book: Local Bookstore, Amazon
, B&N


These are autobiographical sketches of Paulsen's experiences in the north woods. There is acceptance and respect for animal life, especially sled dogs, in all its harsh reality. A good portion of the book relates the author's experiences in running the Iditarod. These are good adventure and outdoor stories which should appeal to outdoor enthusiasts and to animal lovers. Read More.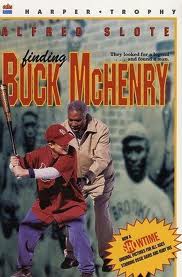 Grades 4 - 8
Finding Buck McHenry by Alfred Slote. Novel. 256 pages.
Find this book: Local Bookstore, Amazon
, B&N


Jason loves baseball, although his playing skills are less than outstanding. Cut from his Little League team, he is crushed and unburdens himself on the school janitor, Mack Henry. It turns out that Mr. Henry knows a lot about baseball, especially about the Negro League which Jason knows nothing about. Jason's collection of baseball cards gives no indication of such a league. A trip to the card store, however, turns up a card for Negro League star Buck McHenry, who may or may not be Mack Henry.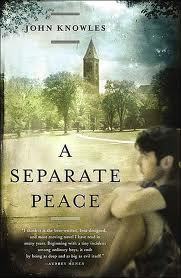 Grades 8 - 12
A Separate Peace by John Knowles. Novel. 204 pages.
Find this book: Local Bookstore, Amazon
, B&N


The story is told as a flashback by Gene Forrester who revisits Devon School in New Hampshire fifteen years after he was a student there. His best friend was Phineas, called Finny, a natural athlete and idealist, but Gene envied Finny so much that he contrived to make Phineas fall, crippling him. Guilt caused Gene to confess what he had done to Finny but the results were not what Gene expected.
(Continued Below)
---
Advertisement:
---

Grades 5 - 9
Tangerine by Edward Bloor. Novel. 320 pages.
Find this book: Local Bookstore, Amazon
, B&N


Paul is legally blind, but he doesn't let the kids at the new school find that out. He plays soccer well and makes friends with his quick wit and skills. His older brother Erik is their father's pet, however, for Erik is a football star and football is the town's and his father's passion. There's an underground fire spilling smoke and stench over the seemingly ideal community and lightning strikes frequently but the games go on. This is a strong book with a great central character.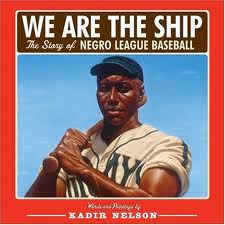 Grades 4 - 7
We Are the Ship: The Story of Negro League Baseball by Kadir Nelson. Nonfiction Picture Book. 96 pages.
Find this book: Local Bookstore, Amazon
, B&N


This is Kadir Nelson's first time both writing and illustrating a book. He previously won a Caldecott Honor for illustrating Moses: When Harriet Tubman Led Her People to Freedom. Here his beautiful paintings bring an unexpected richness to baseball. There is a forward by Hank Aaron and text full of the history of baseball from the 1860's through 1947 and the effect that segregation and racism had on the game and the African American players who excelled at it.


Grades 1 - 6
Basketball Belles: How Two Teams and One Scrappy Player Put Women's Hoops on the Map by Sue Macy. Illustrated by Matt Collins. Nonfiction Picture Book. 32 pages.
Find this book: Local Bookstore, Amazon
, B&N


The first all-female intercollegiate basketball game was played in 1896 between Stanford and Berkeley in California. This book takes us there through the eyes of Agnes Morely, a ranch-raised young woman from New Mexico whose mother is hoping college will make her more lady-like. Wonderful paintings bring the time, the game, and the women to life. The back of the book includes a timeline and author's note. Great for late 19th century history, sports, women's roles and equality.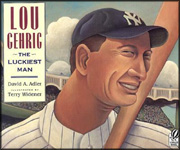 Grades K - 3
Lou Gehrig: The Luckiest Man by David Adler. Illustrated by Terry Widener. Nonfiction Picture Book. 32 pages.
Find this book: Local Bookstore, Amazon
, B&N


This is a simple, straight forward biography of the Yankee baseball player whose farewell speech is so often replayed. The man's acceptance of his acclaim and his fate is affectingly portrayed for young readers.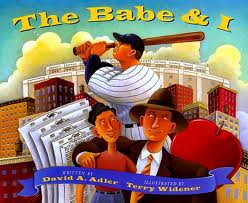 Grades 2 - 4
The Babe and I by David A. Adler. Illustrated by Terry Widener. Nonfiction Picture Book. 32 pages.
Find this book: Local Bookstore, Amazon
, B&N


It's 1932 in the Bronx. A young boy learns that his father, who goes off to work each morning is really out of work and is selling apples on the street. A friend teaches our narrator how to sell newspapers near Yankee Stadium by yelling out the news of Babe Ruth's latest exploits. The boys' success means added funds for their families. The book, with the slightly stylized illustrations that play with perspective, is a nice period piece.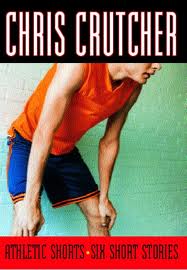 Grades 6 - 12
Athletic Shorts: Six Short Stories by Chris Crutcher. Short Stories. 208 pages.
Find this book: Local Bookstore, Amazon
, B&N


Although each of these six stories has something to do with sports, growing is a more prominent theme. All but one of these stories contains a character from one of Chris Crutcher's novels. These are tender, funny and significant exploring issues such as racism, homophobia and sexism. Most of the stories take place in small towns in Montana or Idaho.
Related Areas on This Web Site